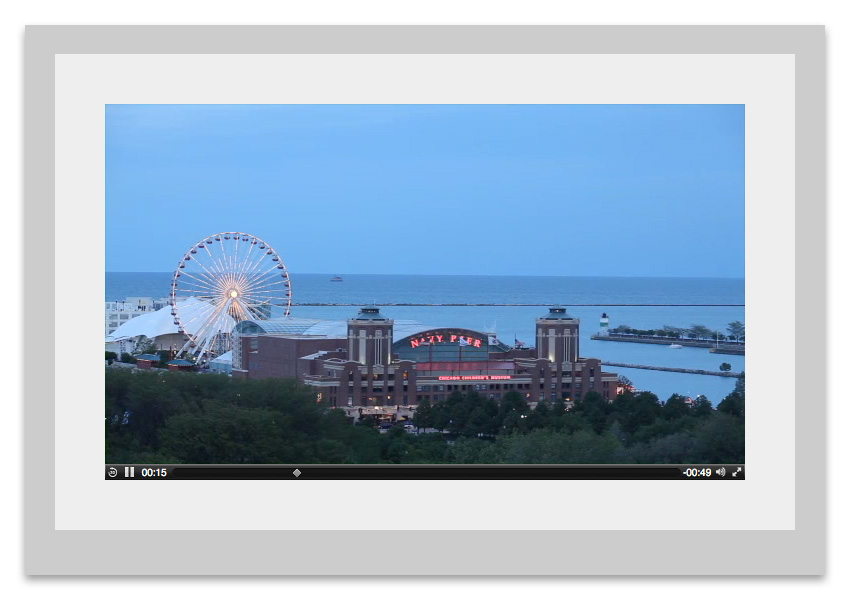 ---


Hi all,
Click the video frame grab above to play the music / video.
I'll put lots more music up here as time goes by; but, this will get us started.
A while back I sent one of my super short exercises / drill and practices to a great friend of mine, Joe Gibbs, so he could hear what I was up to. I had just purchased an old Gibson hollowbody and loved it's tone. He immediately sent back the video above with my music as a sound track … how cool is that!!! It turns out he was calibrating a new camera for shooting right after dark and was in a hotel room in Chicago so he had this footage from his hotel room right there. So that's why it's called "Navy Pier".
The exercise is a 16 bar improv built on the 5th of a given minor 7th chord using that scale. Usually the minor 7th pentatonic scale is used in Blues but when played 5 steps up like this it has a really neat sound. (So it's C min 7 with G min 7 played over it then switching to F min 7 with C min 7 played over it … super simple). It's not earth shattering but I liked how it turned out and Joe's video made it extra cool.
---
Giant Steps 60s style. First solo in John Coltrane's pivotal piece à la Jimi, and slowed down.
Thinking of Greek Islands in the warm afternoon sun.
Non Functional Harmony Exercise (I wrote this short piece and played all parts. Drums, fretless bass, comping / rhythm and solo guitars.)
Fun little experiment in simple C … love this strat!!!
Wrote this and played all instruments … it's a loose sketch with doubled up guitar voices.
Early I, IV, V blues / slide fun. Thinking about the pre rock and roll days … played all the parts.
Delta Blues … what I'll do as an even older dude on my porch. Me and my National
Same Old Blues
Channeling my early memories of Jeff Beck … The British Invasion days … so much fun!
Led Zeppelin … playing bass, rhythm and solo guitars over a cool backing track. Definitely stress relief. The barking ending phrases are really fun! (yay p-90s!)
Led Zeppelin Kashmir. This one's a lot more difficult than it sounds. So Much Fun!!!
First guitar solo from Pink Floyd's Comfortably Numb. Practicing David Gilmore's classic. Bass, rhythm and solo guitar.
All modes practice vamp / complete cycle / then jam using 'em. It's a routine exercise and really fun! (best is at the end). Ionian, Dorian, Phrygian, Lydian, Mixolydian, Aelonian and Locrian in order then mixed.